Sarah Mansfield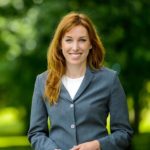 Greens
Attending Forum
Past Elections: 2016 Federal Election (Corio), 2017 Geelong Council Election (Brownbill Ward) (Elected)
Primary Vote Last Time: 17.82% / 0.71 quotas
Candidate Statement
If the candidate has provided a statement you can view it below. Candidate statements are not edited in any way by us. Candidate statements reflect the views of the candidate and not this program, website or 94.7 The Pulse. Candidates without a statement on this website can supply one by contacting us.
Sarah is a current City of Greater Geelong councillor for the Brownbill ward, a general practitioner and a Senior Lecturer at Deakin University.
She lives in Geelong with her husband and two young children. She loves the sense of community and beautiful natural environment. She wants her family to grow up in a healthy, safe, environmentally sustainable and inclusive community.
Sarah's expertise is in both clinical medicine and public health. She has studied at the London School of Economics, and has worked broadly throughout Australia's health care system, including with people experiencing homelessness and providing drug and alcohol services. She has a strong history of advocacy and volunteer work, including with a program supporting health literacy amongst Geelong's refugee community.
Sarah is proud to have represented the Greens as a councillor for the past 3 years. Sarah has listened to the community and pushed for stronger action on climate change, increased social and affordable housing, safer cycling infrastructure, protection of the Green Spine, prevention of harm from poker machines, and reduced waste going to landfill including single use plastics. She has been an advocate for gender equity, better recognition of First Nations people, and more inclusive council services for all ages and abilities. However, Sarah believes there is much more to be done. COVID-19 has had a major impact on the Geelong community, and Sarah wants to ensure that support is provided for those who are most in need, and to find opportunities to be a more resilient and sustainable city.
Sarah understands the impact of local government on people's health and wellbeing, and is driven by a desire to make Geelong a healthier place to live and work. She will continue to advocate for strong action to mitigate and manage climate change, create green community spaces including safe active transport options, support for local business and community groups, and policies that promote social inclusion.
Previous Interviews
8 Mitchell's Front Page podcast episodes available.
Interview with Mitchell Dye on October 9th 2020:
Other Interviews
View all interviews with Sarah Mansfield