Sarah Hathway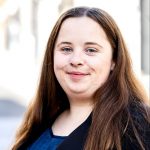 Socialist Alliance
Attending Forum
Past Elections: 2014 Victorian State Election (Geelong), 2017 Geelong Council Elections (Brownbill), 2018 Victorian State Election (Geelong)
Candidate Statement
If the candidate has provided a statement you can view it below. Candidate statements are not edited in any way by us. Candidate statements reflect the views of the candidate and not this program, website or 94.7 The Pulse. Candidates without a statement on this website can supply one by contacting us.
Hi, my name is Sarah Hathway. I live in Norlane with my partner and 2-year-old daughter. I grew up in Whittington and attended school and TAFE in Geelong. I'll be a candidate for Windemere ward in the City of Greater Geelong Council elections this October.
I believe that areas like Norlane and Whittington are underserviced and we're often ignored. Councillors and local politicians claim they do a lot but little seems to change.
I've been disappointed by the representation of our councillors in the Northern suburbs. I was one of many activists calling on Council to declare a climate emergency last year just before Australia's most devastating fires ever. Yet Councillors Aitken and Grzybek sided with Liberal party aligned conservatives rather than support climate justice. Later they supported the proposed destruction of the $8 million green spine in Malop Street and did nothing to stop Geelong City Council employees from being stood down during the pandemic.
As a union organiser in the health industry and a member of Socialist Alliance, I know how to build campaigns and fight back. I do not want to be a career politician and I'm sick of being represented by careerists, developers and those who don't put community needs first.
If elected, I will not do deals with conservatives. Every resident in the Northern suburbs deserves access to quality housing, transport, healthcare, childcare and education for starters. There should be less emphasis on rate payers and more on service provision to residents who need it, regardless of whether they pay rates or not. I believe the only way to achieve this is by working people getting organised, supporting and representing each other.
If you want someone on council who is going to put our needs first, then put a 1 next to my name. Together and organised we are strong and can affect the change we need to see.
Previous Interviews
7 Mitchell's Front Page podcast episodes available.
Interview with Mitchell Dye on October 7th 2020:
Other Interviews
View all interviews with Sarah Hathway