Rob Minty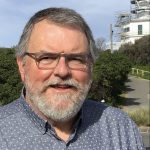 Independent
CouncillorAttending Forum
Political views: Unknown/Undisclosed
Past Elections: 2016 Borough of Queenscliffe Election (Elected in 2019 in a countback)
Primary Vote Last Time: 5.25% / 0.31 quotas
Candidate Statement
If the candidate has provided a statement you can view it below. Candidate statements are not edited in any way by us. Candidate statements reflect the views of the candidate and not this program, website or 94.7 The Pulse. Candidates without a statement on this website can supply one by contacting us.
I am Rob Minty a permanent Borough resident. I have been a Councillor for the last nine months winning the seat vacated by Cr Tony Francis.
The appointment of the new CEO has been a game changer in the way Council deals with community consultation in the Borough. I actively support the "get it done" agenda of 2020 and beyond.
We have progressed the Climate Emergency Response Plan that sits in my portfolio of Environmental Sustainability and we are working on ways to consult with the community during COVID-19.
The Avenue of Honour action plan to replant this important memorial is happening. The Hub, a substantial project that will improve resident and visitor experience in Hesse Street is progressing without cost or timing issues and South Hesse Street work to underground the power lines is also proceeding at good pace. A much lighter touch in the work at Shortland's Bluff will see an upgrade more in tune with the community response and the budget.
The plan for the clearing of bush fire fuel along Ocean Road is almost ready for release and implementation. I have advocated for years as a member and president of the PLCA for improvements at The Point Lonsdale Lighthouse Reserve (PLLHR). Prior to the community response to climate action the PLLHR was the most important issue in the Borough. Real action is finally underway.
I will continue to advocate for works at our caravan parks to improve the visitor amenities. This important income source helps keep the Borough financially strong and independent and helps fund the management of our natural and coastal assets. Our businesses also need these visitors now more than ever.
I stand in support of a financially strong and independent Borough and a consultative Council focused on residents and supporting local business. I ask for your vote. Cheers Rob Minty MBA
Previous Interviews
1 Mitchell's Front Page podcast episode available.
Interview with Mitchell Dye on October 5th 2020:
View all interviews with Rob Minty