Pat Murnane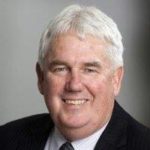 Independent
CouncillorAttending Forum
Political views: Unknown/Undisclosed

Past Elections: 2017 Greater Geelong Elections (Kardinia Ward) (Elected)
Primary Vote Last Time: 12.57% / 0.50 quotas
Candidate Statement
If the candidate has provided a statement you can view it below. Candidate statements are not edited in any way by us. Candidate statements reflect the views of the candidate and not this program, website or 94.7 The Pulse. Candidates without a statement on this website can supply one by contacting us.
Over my first three years in Council, I have made it my mission to be an independent, respected and fearless voice at City Hall with no political affiliations.
My last act as a sitting Councillor was to request a report on the regional impact of COVID-19 on social inequities across our municipality.
This report would be completed within five months so that the new Council can consider investment programs in its next budget to restore community prosperity and wellbeing.
Council's leadership in this recovery program will be critical, as well as the collaborative partnerships Council can form with philanthropic organisations and the State and Federal Governments.
A distinguished career in the finance industry has allowed me to chair Council's Finance Portfolio, and to help Council deliver plans for its new Administrative Offices and Civic Precinct at no additional cost to ratepayers. I have also used my extensive commercial expertise to ensure balanced decision-making in the vast array of matters that come before council. Now, more than ever, we need Councillors with this skill set.
Notwithstanding my commercial background, I am probably better recognised for my work in the Geelong community over the past 25 years, having helped to create 11 community organisations across the region and served on the boards of not-for-profit organisations. My work in the community was recognised with an 'Outstanding Community Leadership Award' by the Committee for Geelong in 2016. I continue to champion and plan projects around Emergency Food Relief, Homelessness and Social Housing.
I have also been a strong advocate for the environment in all Council matters, including saving the Malop Street 'Green Strip' and acknowledging climate change, as well as endorsing a new sustainability policy and single-use plastics policy.
I am an advocate for alternative transport options and improved public transport to protect the future viability and liveability of our City's CBD area and the natural linkages of our green spaces. I have also supported the City's shared recreational trails across the Geelong region, as well as new community and sporting facilities.
Previous Interviews
3 Mitchell's Front Page podcast episodes available.
Interview with Mitchell Dye on October 7th 2020:
Other Interviews
View all interviews with Pat Murnane