Owen Sharkey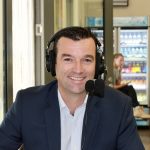 Independent
CouncillorAttending Forum
Political views: Unknown/Undisclosed
Past Elections: None
Primary Vote Last Time: 12.71% / 1.02 quotas
Candidate Statement
If the candidate has provided a statement you can view it below. Candidate statements are not edited in any way by us. Candidate statements reflect the views of the candidate and not this program, website or 94.7 The Pulse. Candidates without a statement on this website can supply one by contacting us.
Dear Golden Plains Shire resident,
My name is Owen Sharkey and I love living and working in the Golden Plains Shire along with my wife and three lovely daughters aged 11, 13 and 15.
I have nominated again as a candidate to help shape the communities vision for the next four years, in the upcoming council election.
It has been an absolute honour to serve as both a councillor, and your mayor over the past 4 years. The experience I have gained will aid me into the future and I have absolutely loved working with local community groups and meeting so many passionate and inspirational people.
If elected, I will continue to help valuable organisations that represent the best interest of our community, youth, families, elderly and especially those with special needs. I will also continue to lobby state, federal and relevant bodies to obtain much needed funding to help with our clubs and groups across the shire.
My dedication and hard work has seen me elected as the mayor for the past two years, elected chair of the Central Highlands Councils Victoria and board member of G21. I will always represent the residents of the whole shire with honesty, integrity and to the best of my abilities; I personally pledge to work as hard as I have over the past 4 years to ensure your concerns are heard,
I respectfully seek your support with a vote in doing so and also ask that you help form a balanced council, one with experience a few fresh faces, and positive attitudes.
Due to Covid_19 restrictions it will limit us as councillors to meet residents face to face, I will be conducting Zoom meeting throughout campaign for those that have any questions. Please follow my social media for further details or simple email [email protected]
Previous Interviews
5 Mitchell's Front Page podcast episodes available.
Interview with Mitchell Dye on October 6th 2020:
Other Interviews
View all interviews with Owen Sharkey