Naomi Adams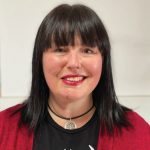 Animal Justice Party
Website: www.ajpvic.org.au/naomiadamsgeelong2020

Past Elections: 2017 Geelong Council Election (Bellarine Ward), 2018 Victorian State Election (Bellarine), 2019 Federal Election (Corangamite)
Primary Vote Last Time: 7.80% / 0.31 quotas
Candidate Statement
If the candidate has provided a statement you can view it below. Candidate statements are not edited in any way by us. Candidate statements reflect the views of the candidate and not this program, website or 94.7 The Pulse. Candidates without a statement on this website can supply one by contacting us.
I have lived in Ocean Grove for 13 years and love the community atmosphere and beautiful environment. I live with my two rescue dogs and I foster animals when I can.
With qualifications in psychology, social welfare and community services I have over 20 years' experience in a range of community and health services, including on the Bellarine Peninsula for nine years. When working in community health I was proud to represent my team as a union delegate. Prior to this career I worked predominantly in sales and hospitality sectors.
As a volunteer protecting local wildlife, I would like to see the Lake Connewarre wetlands, which are so close to housing estates in the Bellarine and Kardinia wards, become family friendly, safe, eco-tourism locations. I also want to see an end to the use of dangerous poison baits that have devastating effects not only on the targeted species, but on native wildlife and domestic animals. I look forward to contributing positively to the Domestic Animal Management Plan (DAMP). We need to address backyard breeding, assist disadvantaged community members to get access to affordable de-sexing, registration and microchipping for companion animals, and I will advocate for instant re-unification when animals become lost.
I am also deeply concerned about preserving local businesses on the Bellarine and believe Council must provide assistance for recovery from the impact of the COVID-19 pandemic. I am also keen to see improved public transport and bike paths. I am passionate about protecting green spaces and wildlife corridors on our beautiful peninsula, and back environmental projects that support our oceans and beaches. I recognise the reality of the climate emergency, and also our potential to contribute to the reduction of further environmental harm.
I will advocate for the well-being of all residents of the Bellarine community – animals and humans alike.
Proudly endorsed by the Animal Justice Party, whose values are kindness, equality, rationality and non-violence, and the same values guide my decision making in all areas of my life.
Previous Interviews
3 Mitchell's Front Page podcast episodes available.
Interview with Mitchell Dye on April 30th 2019:
Other Interviews
View all interviews with Naomi Adams