Liz Wood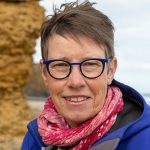 Independent
Attending Forum
Political views: Unknown/Undisclosed
Past Elections: None
Candidate Statement
If the candidate has provided a statement you can view it below. Candidate statements are not edited in any way by us. Candidate statements reflect the views of the candidate and not this program, website or 94.7 The Pulse. Candidates without a statement on this website can supply one by contacting us.
I'm an independent candidate who has lived in Aireys Inlet for over twenty years. I have the experience, energy and commitment to be your Councillor. 
I have extensive professional experience in local and state government across urban, strategic, open space and social planning, policy and research, public health, sport and recreation, education and community services. I'm President of Community Garden 3231, volunteer with Friends of Allen Noble Sanctuary, Estuary Watch and Queenscliff Music Festival, and member of Anglesea Arthouse, ANGAIR and AIDA. 
I live here because, like you, I love the beach and bush. I love the small town community, knowing and looking out for neighbours, being close to nature and restoring bushland. These actions are important and make a difference. I believe we also need to focus on the big picture and threats to our towns, communities and environment. We must ensure our communities, businesses and environment thrive. 
COVID-19 highlighted how easily lives and livelihoods can be disrupted. While the immediate challenge is to recover from this crisis and build back stronger, we must now carefully plan and sustainably manage our future on the Surf Coast. 
We must make real choices about balancing tourism and growth, with community life, the environment and what's unique and special about our towns. We must engage with the challenges of bushfire management. We have to decide if the Eden project is the best option for Anglesea. We must respond to the climate emergency. As resilient communities we can make choices and decisions that respond effectively to these challenges and risks. I offer you the opportunity to work with me to advise on, engage with and shape our future in a positive way together. I'm proud to be endorsed by retiring Councillor Margot Smith. Vote 1 Liz Wood!
Previous Interviews
1 Mitchell's Front Page podcast episode available.
Interview with Mitchell Dye on October 5th 2020:
View all interviews with Liz Wood