Liz Pattison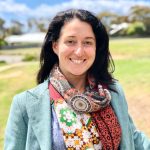 Independent
Attending Forum
Political views: Unknown/Undisclosed
Website: www.lizpattison.com
Past Elections: None
Candidate Statement
If the candidate has provided a statement you can view it below. Candidate statements are not edited in any way by us. Candidate statements reflect the views of the candidate and not this program, website or 94.7 The Pulse. Candidates without a statement on this website can supply one by contacting us.
I'm Liz Pattison.
The Surf Coast is such a special place to live. I love this community and the environment we share. I want our Council to reflect the people who live here. People like you and me.
I am…
an engineer, providing essential services to communities for over 15 years,

a mother, living in Jan Juc with my husband and four boys in kinder and primary school,

a community leader and volunteer at the Jan Juc kinder and playgroup

I'm accomplished in strategic planning and working collaboratively. I think outside the box to create solutions
As an independent candidate, I'll represent you on Council in a considered, enthusiastic and respectful way. A way that reflects our shared values.
I'll build a healthy connected community through;
more engaging community spaces that work for families, the young and the aged

more Council support for our community groups

connected bike paths linking our schools, parks, and town centres
I'll  conserve our unique coastal township and environment
I'll work to fix our broken planning processes in line with community views and values

I support a town boundary at Duffields Road.
I'll accelerate our recovery from COVID and support local businesses.
Open air dining in public spaces to support our local traders

I'll advocate for a hop on hop off shuttle to activate our community
I'll keep what we love about our unique coastal township and environment, and I need your vote to deliver my plan
Vote [1] for Liz Pattison and help me make a difference to this place that we share and love.
Previous Interviews
2 Mitchell's Front Page podcast episodes available.
Interview with Mitchell Dye on October 8th 2020:
Other Interviews
View all interviews with Liz Pattison