Kate Gazzard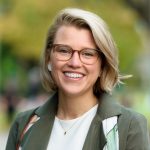 Greens
Attending Forum
Website: greens.org.au/vic/person/kate-gazzard
Past Elections: None
Primary Vote Last Time: 14.49% / 0.72 quotas
Candidate Statement
If the candidate has provided a statement you can view it below. Candidate statements are not edited in any way by us. Candidate statements reflect the views of the candidate and not this program, website or 94.7 The Pulse. Candidates without a statement on this website can supply one by contacting us.
As a paediatric doctor, I am passionate about addressing the climate crisis to protect the patients I work with: our next generation. That's why I am proud to be a Greens-Endorsed Candidate for Torquay ward at the Surf Coast Council election. My vision is that by advocating for preventative healthcare, social justice and environmental protection, we can support our community and provide a safe future for our children.
I live in Jan Juc with my partner Ed, our chooks, bees and veggie garden, and I feel incredibly lucky to be part of such a healthy, active community. I'm a member of the Torquay and District Landcare Group, the Surfrider Foundation and Surfers Appreciating Natural Environment group, and I have experience as a committee member on various medical councils and charity groups.
Our area is experiencing huge population growth but there are no clear long-term strategies in place to protect and cultivate our environmental and Indigenous heritage. I stand with the Greens because we are in a climate emergency.
If elected, my priorities will be to:
1) Build a Sustainability Framework and Action Plan in response to the declared climate emergency, establishing clear targets and creating a community advisory group to ensure accountability
2) Ensure conservation of Bells Beach and Spring Creek, in consultation with the Traditional Owners of the land, to stop inappropriate development and protect the coast from environmental destruction
3) Protect our oceans from plastic pollution by working towards a plastic-free Torquay and providing incentives to individuals and businesses to use sustainable reusable options rather than single-use plastics
4) Increase the amount of subsidised solar panels for homes and businesses
5) Reduce the amount of waste going to landfill by improving urban and farming recycling, providing hard rubbish collection and community composting systems
6) Advocate for the health and safety of our community, such as by removal of the barrier between Quay 1 and Quay 2, improving local road and bicycle access and encouraging us all to move more and drive less
If you have any local issues you would like to discuss please contact me at [email protected]
Vote 1 Kate Gazzard for a resilient, healthy future for Torquay.
Previous Interviews
1 Mitchell's Front Page podcast episode available.
Interview with Mitchell Dye on October 8th 2020:
View all interviews with Kate Gazzard