Jack Williams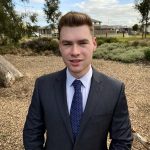 Independent
Attending Forum
Political views: Progressive
Past Elections: None
Candidate Statement
If the candidate has provided a statement you can view it below. Candidate statements are not edited in any way by us. Candidate statements reflect the views of the candidate and not this program, website or 94.7 The Pulse. Candidates without a statement on this website can supply one by contacting us.
My name is Jack Williams, and I am your candidate for the Kardinia Ward, in the City of Greater Geelong.
Geelong is my home, I love my city, and I'm sure that many of us would agree on the exact same statement, each having our own personal stories and attachments that unite us as a community.
I'm running for City Council this election as I am a young, motivated, and driven individual with a passion to pave our city's success for many decades to come. I believe that bringing a younger face to council will not only create much needed age diversification, but it would also be a major stepping stone towards representing and supporting various demographics in council that are normally overlooked or not yet understood enough.
I plan on taking a serious approach towards topics such as: our evolving climate emergency, making Geelong more sustainable, road quality and maintenance, and the support, education,
and inclusion of our youth.
If elected, I will advocate for initiatives that educate and support our young people in gaining and maintaining stable employment. This will support our local businesses and foster a positive pathway by changing our youths current attitude towards community involvement.
Living in Mount Duneed, and working as a Station Officer at the Marshall Train Station, I'm fortunate to be in a position where I'm able to engage with the public by learning more about their ideas, concerns, and interests towards the future of Geelong and the Kardinia Ward.
My promise to you, is to continuously work hard towards not only providing a much needed new voice in council, but to help design, build, and implement "a future we can count on".
Previous Interviews
1 Mitchell's Front Page podcast episode available.
Interview with Mitchell Dye on October 7th 2020:
View all interviews with Jack Williams