Gabriel Wenyika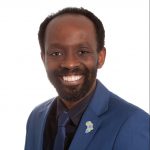 Independent
Attending Forum
Political views: Unknown/Undisclosed

Past Elections: None
Candidate Statement
If the candidate has provided a statement you can view it below. Candidate statements are not edited in any way by us. Candidate statements reflect the views of the candidate and not this program, website or 94.7 The Pulse. Candidates without a statement on this website can supply one by contacting us.
Hi I'm Gabriel, and I'm running for council in the Brownbill Ward, for the City of Greater Geelong. I moved to Geelong from Zimbabwe in 2006 to study Law and International Relations at Deakin University and 14 years later I am proud to call Geelong home. I have built deep roots in this community and am now married and my wife and I are expecting our first child later this year. I serve and volunteer for a number of community organisations and I am a board member for a non-for-profit Geelong based community organisation.
I am a lawyer by training living in Fyansford. I am involved in the local community in a number of ways. I serve as a Board Member of OneCare Geelong, a community outreach organisation that provides a range of services and programs that assist people experiencing disadvantage and social isolation. I also volunteer with Red Frogs Australia, a chaplaincy network that seeks to provide a positive peer presence in alcohol-fuelled environments where young people gather.
As a Councillor for the Brownbill Ward, I will:
Seek to give voice to the concerns of the community as a whole.
Encourage a multicultural viewpoint on all matters before council
Ensure that young people are represented and heard in decision making.
Consider all issues before the council upon their merits and in line with the Geelong City Councils Strategic Plan and for good of the Geelong community as a whole.
Increase the awareness of and expand Hard Waste Collection Services to reduce the dumping of white goods and other hard waste
Seek to increase support for the Arts and for local businesses
Evoke strong action on climate change.
Previous Interviews
1 Mitchell's Front Page podcast episode available.
Interview with Mitchell Dye on October 9th 2020:
View all interviews with Gabriel Wenyika