Fleur Hewitt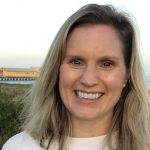 Independent
Attending Forum
Political views: Unknown/Undisclosed
Past Elections: None
Candidate Statement
If the candidate has provided a statement you can view it below. Candidate statements are not edited in any way by us. Candidate statements reflect the views of the candidate and not this program, website or 94.7 The Pulse. Candidates without a statement on this website can supply one by contacting us.
I am running in this election because I want to shape a better future for the Borough and be a voice for our community, particularly young families.
I believe action is needed now to respond to the twin crises of climate change and COVID-19, to promote economic recovery and development of the Borough while preserving what makes it such a special place.
1. CLIMATE CHANGE
We are in the midst of a climate emergency; our beaches are eroding and we are vulnerable to rising sea levels. While Council has taken steps to minimise our carbon footprint and prepare for the long-term impacts, I believe we have more to do.
That is why I will work to:
• Reduce Council's emissions to net-zero;
• Encourage the switch to electric vehicles and renewable energy sources;
• Install rapid electric vehicle charging stations in public spaces.
2. BUILDING A BETTER BOROUGH AFTER COVID-19
We have done a great job staying healthy during this pandemic, but we have not been immune to its economic impact. Now more than ever, the Borough needs a Council that frees businesses from regulation and helps them recover.
I will therefore look to:
• Reduce red tape for businesses, support increased outdoor dining and assist with COVID safe plans;
• Establish a hub for playgroups, children's activities and a toy library;
• Improve and build new footpaths, bike tracks and safe crossings, and refurbish the skate park;
• Advocate for public transport improvements including a better bike lane on Shell Road to Ocean Grove and faster and new bus, train and ferry services to Geelong and Melbourne.
I am an experienced lawyer with expertise in property and a special interest in planning and environmental issues.
I believe in projects which enhance and protect our community for the future.
As the Borough's representative, I will be accessible, honest and effective.
Previous Interviews
2 Mitchell's Front Page podcast episodes available.
Interview with Mitchell Dye on October 12th 2020:
Other Interviews
View all interviews with Fleur Hewitt