Atamjit Singh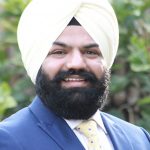 Independent
Attending Forum
Political views: Labor[source]
Past Elections: None
Candidate Statement
If the candidate has provided a statement you can view it below. Candidate statements are not edited in any way by us. Candidate statements reflect the views of the candidate and not this program, website or 94.7 The Pulse. Candidates without a statement on this website can supply one by contacting us.
I love Australia, and I've loved Geelong ever since I moved here in 2006. My family and I are so
grateful for the opportunities that this city has given us, and I take every opportunity to give back to
it. I am standing in the upcoming City of Greater Geelong Council election, as I would like to see a
council that works for the benefit of the community. I am currently self-employed, managing
education Consultancy Company for university students and have been working with young people
to provide career counselling. I am an active member of the Geelong Sikh Community, a represented
ethnic communities at various platforms across Victoria and I barrack for the Geelong Cats. I believe
in hard work and better opportunities for the benefit and improvement of the individual, their family
and the community at large. I would like to see a progressive, decisive and diverse Council with the
vision for Geelong as most liveable city in the world. After many conversations with residents, it is
important that our community continues to have access to services and facilities that strength our
community wellbeing. This includes continual upgrades of sporting and recreations facilities in
Kardinia and maintaining of our roads and planning for our future needs, such as a new library for
Armstrong Creek and modernise existing library. I am a strong believer in productive and viable
economic planning, which is currently lacking in Council decisions, ensuring that the rates you pay
benefit you and your community. It will bring more financial stability, cut down waste, and create
jobs in our region. I stand for a sensible and transparent Council that creates opportunities for the
people of Geelong. I'm ready to get started and make sure your voice is heard. Please Vote 1
Atamjit. Signed off
Atamjit Singh
Previous Interviews
2 Mitchell's Front Page podcast episodes available.
Other Interviews
View all interviews with Atamjit Singh