"Geelong can cope with several hundred extra people"- Michael Martinez, Diversitat CEO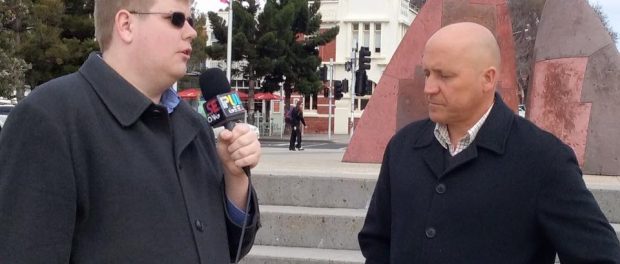 Mitchell Dye speaks to Diversitat CEO Michael Martinez on the Geelong waterfront following an announcement by Geelong community leaders regarding Geelong's ability to assist Syrian refugees.
On Diversitat's announcement…
It's a welcome message for Syrian refugees to the Geelong community.. what it is, is us saying that Geelong can cope with several hundred extra people, and we've had a bunch of community organisations affirming that including some business people, so leading community organisations, so really a welcome message because we've all been touched by what's been happening…
On Geelong's attributes…
As you've seen… We've already got a very sustainable settlement program, we've been doing it for many years, we've got a lot of really highly skilled staff, we've got the housing stock, we've got the educational facilities, we've got the community facilities, there are jobs contrary to the doom and gloom of what comes out of, particularly the Melbourne media… but it's more than that, we've got a safe environment, it's not as busy and as hazard and crazy as Melbourne and people really do feel welcome.
What to look for in drugs online? So it's no wonder that internet drugstores have grown in vogue over the past 10 years. Cialis is a curing used to treat sundry ailments. What do you think about Cialis? You can find out more info through Cialis. (See also best online pharmacy to buy cialis). What have to patients always ask physician for vocational consultation about the treatment? There are varied other questions the drug. In our generation many users quest online for the exact keyword buy generic viagra and cialis online on search engines. Also, view Cialis. Fortunately most of problems with sexual soundness can be treated. Moreover Cialis may also be used to treat other conditions as determined by your pharmacist. More information available at where can i buy cialis online.
Podcast: Play in new window | Download
Subscribe: Apple Podcasts | Android | RSS