1 councillor
Results
Enrolment: 3,716
Voter Turnout: 0 (0.00% of total enrolment)
Informal Votes: 0 (0.00% of total votes)
The number of candidates is equal to the number of vacancies. Therefore, no election will be held and the following candidates are elected unopposed:
Elected Candidates
Facts about Lorne Ward
Suburbs: Bambra, Benwerrin, Big Hill, Birregurra, Boonah, Deans Marsh, Eastern View, Lorne, Moggs Creek, Pennyroyal, Winchelsea South, parts of Wensleydale
Voters: 3,716 voters
Area: 435 sq km.
Quota: 1,859 votes required to be elected, subject to change based on voter turnout, informal votes and changes to the roll
Candidates Forum: Monday, 5 October at 12pm | Submit a question
Current Representative: Clive Goldsworthy
Number of Candidates Last Time: 1 candidate in 2016
Predict the outcome - Lorne Ward Election Calculator
The purple area indicates the new boundaries for the 2020 election, the grey area indicates the 2012-2020 boundaries.
Candidates
Candidates (1):
| | | |
| --- | --- | --- |
| Gary Allen | Independent | View |
Gary Allen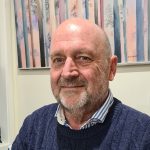 Independent
Attending Forum
Political views: Unknown/Undisclosed
Elected Unopposed
Other electorates in this election:
Bellarine (Greater Geelong)- 10 candidates | Brownbill (Greater Geelong)- 12 candidates | Kardinia (Greater Geelong)- 12 candidates | Windermere (Greater Geelong)- 5 candidates | Golden Plains Shire- 13 candidates | Borough of Queenscliffe- 11 candidates | Torquay (Surf Coast)- 10 candidates | Anglesea (Surf Coast)- 5 candidates | Winchelsea (Surf Coast)- 5 candidates