Kylie Grzybek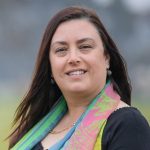 Independent
CouncillorAttending Forum
Political views: Proud Union Member[source]
Website: kyliegrzybek.wixsite.com/kyliegrzybek
Past Elections: None
Primary Vote Last Time: 11.77% / 0.35 quotas
Candidate Statement
If the candidate has provided a statement you can view it below. Candidate statements are not edited in any way by us. Candidate statements reflect the views of the candidate and not this program, website or 94.7 The Pulse. Candidates without a statement on this website can supply one by contacting us.
It was a proud moment when I was elected as Councillor in 2017.
I love the Windermere and Greater Geelong community and enjoy making decisions to get our region continuously moving forward.
As a councillor, I get a kick out of talking to the community on a wide range of topics and you get a real sense of the reasons why people enjoy where they live, work and play.
Currently I am one of the two Councillor's for Windermere Ward on Council for the past 3 years. I have also been in a leadership position as the Deputy Mayor for some 10 months.
I am a Lara mother-of-two teenagers who is vowing to continue to fight for a safer community and deliver a fair share for the north.
I currently work as the Chief of Staff to the Chief Executive Officer at the Transport Accident Commission in Geelong and am currently presently serving as Secretary of the Lara United Football Club.
I have lived in Lara for over 40 years and am a passionate member of my local community.
I am the former President of the Lara Lake Primary School Council, a former committee member and junior coach of the Lara Basketball Club and team manager at the Lara United Football Club.
I believe my actions and deliverables over the past 3 years can be testament to my motivations and key passions.
I delivered on my promise to improve lighting in public spaces, we have also improved CCTV in problem areas. We implemented a youth council and strengthen our youth program, particularly at the Fort in Corio.
We have delivered multi millions of dollars into sporting facility upgrades, neighbourhood houses, roads upgrades, social issues including food relief and homelessness, several children's centers across the northern suburbs including Purnell Road $12m investment.
In the north we are hardworking people and want to see value for our rates and ensure we have the facilities you see in other parts of Geelong. Our kids are being put at risk by the lack of safe pedestrian crossings and I have identified a long list of areas throughout the north where we can make an immediate difference to community safety.
As someone who works in Geelong, I'm passionate about creating job opportunities for our kids. As a proud union member, I know decent working conditions are so important to being able to live a productive and healthy life.
I am not a member of any political party and never have been. I'm nominating because I want to be part of a Council that behaves with the highest levels of professionalism and integrity.
Given the inability to engage face to face with the community, I have been conducting video meetings with all those that wish to engage. Unfortunately COVID19 restrictions have limited the engagement, but as soon as the restrictions are lifted I will endeavour to get to all the community meetings I can to ensure I understand what the needs and wants are over the next 4 years. I will continue to be a strong and effective voice for the entire Windermere community.
Vote 1 for Kylie Grzybek
I have also formed a strong team with Anthony Aitken and ask you vote him 2 on your ballot paper.
Previous Interviews
8 Mitchell's Front Page podcast episodes available.
Interview with Mitchell Dye on October 7th 2020:
Other Interviews
View all interviews with Kylie Grzybek