Anthony Hamilton-Smith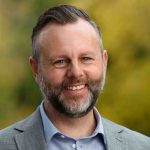 Greens
Attending Forum
Past Elections: None
Candidate Statement
If the candidate has provided a statement you can view it below. Candidate statements are not edited in any way by us. Candidate statements reflect the views of the candidate and not this program, website or 94.7 The Pulse. Candidates without a statement on this website can supply one by contacting us.
As a self-employed interior designer and builder with a passion for sustainable building practices, I am proud to be a Greens-Endorsed Candidate for Kardinia Ward in the City of Greater Geelong Council election. I want to be the everyday person who makes a difference to ordinary people in our electorate. My vision is to see a successful, prosperous community that doesn't come at the expense of the natural environment. I have lived in Geelong for over eight years, and operating my small business here has given me the opportunity to get to know the great resources we have here as well as some insight into what improvements could be made. I have two beautiful children and believe in education and childcare equity. All children should have the equal opportunity to grow, learn and thrive, regardless of financial background. I am standing with the Greens because I want to give a voice to health, employment, education, the environment and diverse communities in Kardinia. If elected, I will prioritise: 1) Achieving a sustainable, inclusive and liveable future for Geelong by creating secure, meaningful work in sustainable local industry. 2) Always placing the environment, community wellbeing and health at the forefront of all Council decisions. 3) Promoting community engagement and transparency in Council decision making. To be able to represent my community and make that difference would be an incredible honour. I look forward to making connections and advocating for positive change in our community. Please call me on 0425 754 317 to learn more. Vote [1] Anthony Hamilton-Smith for innovative, sustainable solutions to support our wonderful city.
Previous Interviews
1 Mitchell's Front Page podcast episode available.
View all interviews with Anthony Hamilton-Smith