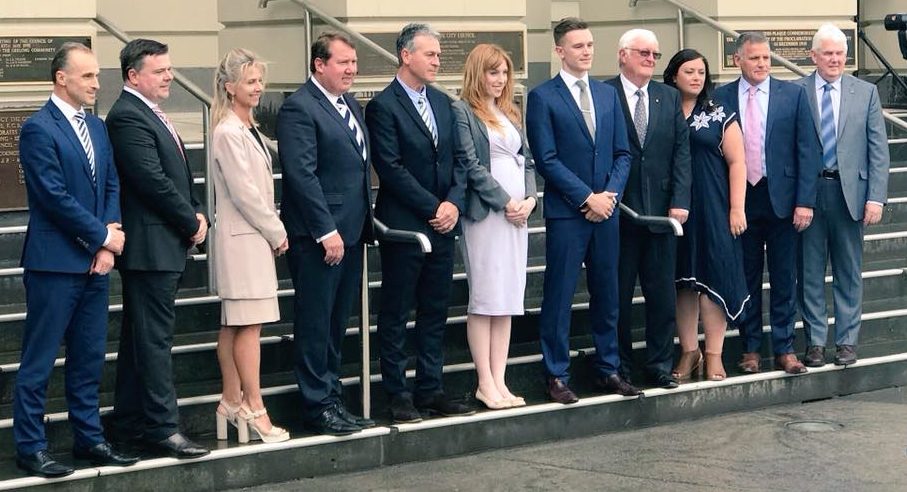 The City of Greater Geelong was sacked in April 2016 and replaced by administrators. Initially the term of administrators was to be until 2020 but this was subsequently reduced to see councilors elected in 2017.
The 2017 elections saw a new ward structure replacing single-councilor wards with four multi-councilor wards. The 2017 boundaries will not be changed for the 2020 election.
Mayors in the City of Greater Geelong are appointed by their fellow councillors for two years. Cr Bruce Harwood served as mayor from 2017-2019 and then Cr Stephanie Asher was appointed mayor.
Results
Voting has closed. This page will be updated as results are received from the VEC and scrutineers watching the count.
Enrolment: 204,092
Voter Turnout: 155,048 (75.97% of total enrolment)
Informal Votes: 7,474 (4.82% of total votes)
Formal Votes: 147,574
Elected Candidates
1 seat in doubt.
Party Vote
Party
Seats
Votes
%
Independent

9
122,793
83.21%
Greens

1
17,081
11.57%
Socialist Alliance

0
4,292
2.91%
Animal Justice Party

0
3,408
2.31%
Map
Wards and Candidates
Bellarine (Greater Geelong)
9 candidates, 3 vacancies. Bellarine (Greater Geelong) electorate profile and candidates
| | | |
| --- | --- | --- |
| Tom O'Connor | Independent | View |
| Elise Wilkinson | Independent | View |
| Trent Sullivan | Independent | View |
| Naomi Adams | Animal Justice Party | View |
| Jim Mason | Independent | View |
| Michael Fairweather | Independent | View |
| Cory Wolverton | Greens | View |
| Tom Harrison | Independent | View |
| Stephen Simmonds | Independent | View |
Brownbill (Greater Geelong)
12 candidates, 3 vacancies. Brownbill (Greater Geelong) electorate profile and candidates
| | | |
| --- | --- | --- |
| Sandi Dwyer | Independent | View |
| Bernie Franke | Independent | View |
| Alex Csar | Independent | View |
| Peter Murrihy | Independent | View |
| Stretch Kontelj | Independent | View |
| Sarah Mansfield | Greens | View |
| Eddy Kontelj | Independent | View |
| Gabriel Wenyika | Independent | View |
| Dean Hope | Independent | View |
| Louis Hehir | Independent | View |
| Jose Rodriguez | Independent | View |
| Melissa Cadwell | Independent | View |
Kardinia (Greater Geelong)
12 candidates, 3 vacancies. Kardinia (Greater Geelong) electorate profile and candidates
| | | |
| --- | --- | --- |
| Jack Williams | Independent | View |
| Ron Nelson | Independent | View |
| Andy Richards | Independent | View |
| Pat Murnane | Independent | View |
| Atamjit Singh | Independent | View |
| Belinda Moloney | Independent | View |
| Anthony Hamilton-Smith | Greens | View |
| Bruce Harwood | Independent | View |
| Andrew Alexander | Independent | View |
| Mark Brunger | Independent | View |
| Jen Gamble | Animal Justice Party | View |
| Michael Stangel | Independent | View |
Windermere (Greater Geelong)
5 candidates, 2 vacancies. Windermere (Greater Geelong) electorate profile and candidates
| | | |
| --- | --- | --- |
| Enamul Haque | Independent | View |
| Kylie Grzybek | Independent | View |
| Monique Connell | Independent | View |
| Anthony Aitken | Independent | View |
| Sarah Hathway | Socialist Alliance | View |